The New York Post reports:
The imam behind a proposed mosque near Ground Zero is a prominent member of a group that helped sponsor the pro-Palestinian activists who clashed violently with Israeli commandos at sea this week. Imam Feisal Abdul Rauf is a key figure in Malaysian-based Perdana Global Peace Organization, according to its Website. Perdana is the single biggest donor ($366,000) so far to the Free Gaza Movement, a key organizer of the six-ship flotilla that tried to break Israel's blockade of the Hamas-run Gaza Strip Monday.

Nine passengers aboard the largest ship died in clashes with Israeli commandos, and a new confrontation loomed today, when another Free Gaza Movement ship was due to reach Gaza waters in defiance of Israel.

Efforts to reach Imam Abdul Rauf yesterday for comment were unsuccessful.

Debra Burlingame, the sister of the American Airlines pilot whose hijacked plane struck the Pentagon on Sept. 11, 2001, said the indirect ties of the imam to the protesters who confronted Israeli forces Monday were not surprising. "I think it goes to show he is not the man he represents himself to be. We have two Imam Raufs," she said. "We have the anti-Israel, anti-democratic imam, and we have the smiling, soft-spoken moderate Muslim who says 'Why can't we all get along?'"
Screen shot of Perdana Global Peace Organization web site page for Rauf: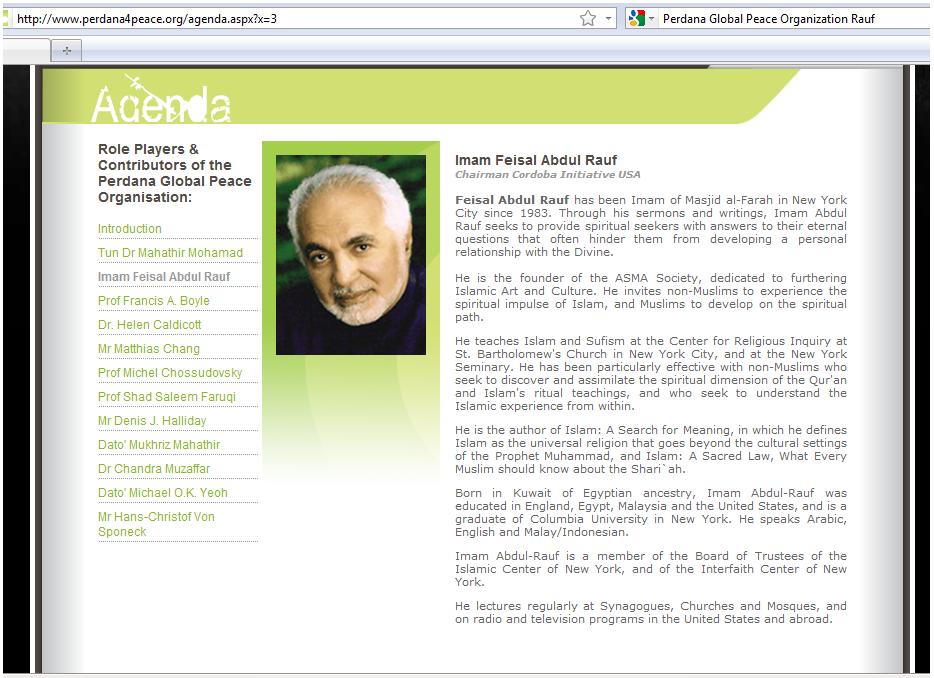 Click image to enlarge
Stop Islamization of America is conducting a rally noon to 3 PM, Sunday, June 6, 2010, at the corner of Church and Liberty Street in lower Manhattan to protest the sharia-compliant mosque, "fun center," and "party space," aka Cordoba House, being built within Ground Zero's kill zone.