WJACTV Johnstown (PA) reports: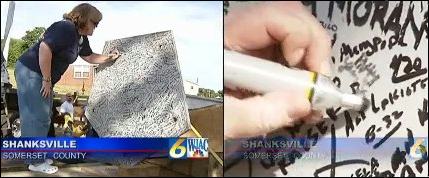 Shanksville, PA — Firefighters said it was one of the largest fire companies in the country meeting one of the smallest Saturday night, when 1,000 motorcycles from New York City rolled into the Alleghenies with a steel beam from the World Trade Center in tow.

New York firefighters made the 311-mile trek to Shanksville by bike to give the 2-ton 14-foot long beam to the Shanksville Volunteer Fire Company… Read the rest or view the video by clicking here.
At 7:00 a.m. yesterday morning, the Fire Family Transport Foundation launched from Floyd Bennett Field on Long Island to escort a cross of steel from the destroyed World Trade Center to the Shanksville Volunteer Fire Company. The foundation provides medical transport to firefighters, family members, and wounded warriors.
NEW YORK – The roar of 1,000 motorcycles accompanied a steel beam from the World Trade Center yesterday as it traveled to Pennsylvania, where it will be part of a memorial in the town where an airliner crashed during the Sept. 11 attacks.

Hundreds of current and retired FDNY firefighters left Brooklyn's Floyd Bennett Field at about 7 a.m. to escort the girder on the 311-mile ride to Shanksville, Pa., where Flight 93 crashed.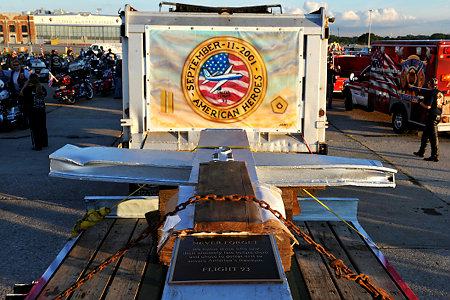 They rolled down I-287 through New Jersey and I-78 in Pennsylvania; at every overpass, folks came out to greet them and show our true colors.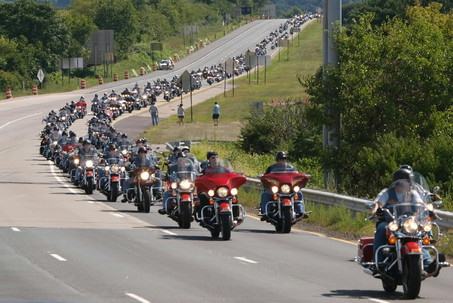 American flags flew while firefighters and rescue workers from companies across Middlesex, Somerset and Hunterdon counties saluted from the overpasses as the 9/11 monument and its thousand-motorcycle escort passed below on its way from Floyd Bennett Field in Brooklyn to its final resting place near the Pennsylvania crash site of United Flight 93.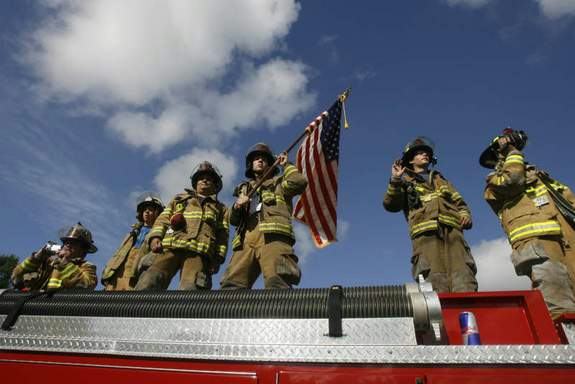 The bridge over Interstate 78 at Rupell Road in Union Township was filled yesterday morning with fire and rescue personnel from Quakertown, Milford and West Amwell, standing atop and beside their vehicles with American flags, joining regular folks in anticipation of the Iron & Steel New York City to Shanksville, Pa., motorcade.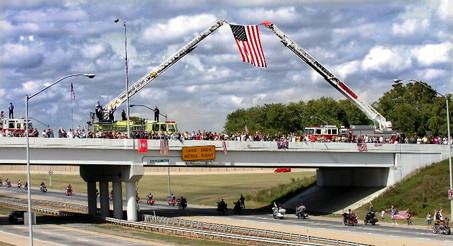 The double line of hundreds of motorcycles and emergency vehicles with lights flashing, sirens wailing and horns honking appeared on the horizon, roaring west to escort the memorial cross fashioned out of steel from the World Trade Center's North Tower to its new home.

"It was an immense amount of pride to be part of this," said Quakertown Fire Company Chief Bradley Patkochis. "A lot of these guys you couldn't keep off this bridge to be part of this today."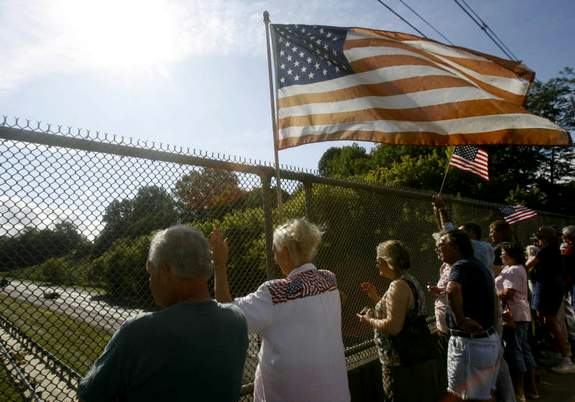 John Hager woke up at 4 o'clock this morning to drive to New York City and participate in the Iron and Steel motorcycle run.

But the Palmer Township [Pennsylvania] resident said the early hours and long drive were worth it every time he and his fellow bikers passed the waving flags and cheering spectators.

"Every single bridge we passed, there were fire trucks and flags," said Hager, 48. "Every overpass from Brooklyn to here. It sends shivers down your spine."
While hundreds of motorcyles and Engine 343 took up station in Somerset for the night…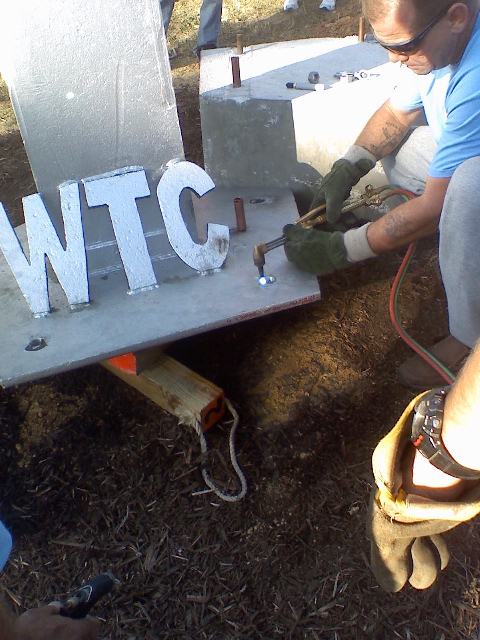 … a busload of New York firefighters and friends followed the cross to Shanksville to help their Brothers there set it in place.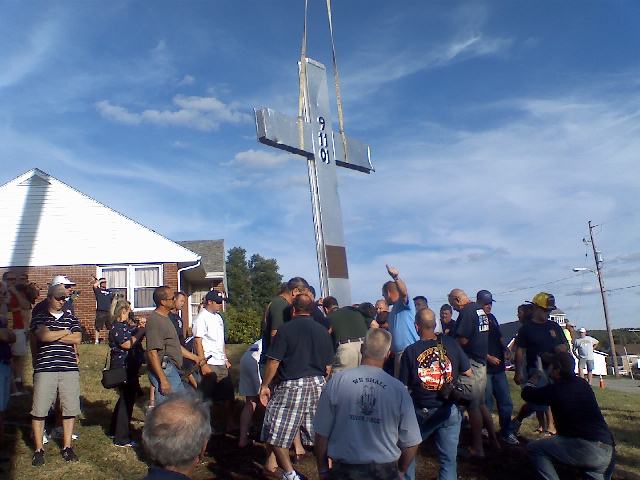 We will stand again this morning with Iron and Steel in Shanksville and remember.
Update, 3:43 PM Eastern, August 25: Our thanks to Andy McCarthy at the NRO for the link over.