Asking if we would let Osama bin Laden go to Ground Zero, where his thugs violated the Koran by both killing themselves and murdering the innocent, is not a stupid question. Officials at all levels have explained the past couple of days why Iranian President Mahmoud Ahmadinejad is allowed to wander around freely, albeit with a U.S. Secret Service detail protecting him; Amadjihaden (anagram) is a head of state.
What if Osama bin Laden wins the war he just declared on Pakistan and takes over as president of that nation? If we follow our own officials' arguments, he would become a head of state — the terrorist dictator over another terrorist nation — with full diplomatic immunity, who could fly into New York City unmolested, address the United Nations, and wander down for a pic and grin session at Ground Zero because it is within 25 miles of Columbus Circle. Our Secret Service would have to guard him while he was here.
Our friends at Cox&Forkum have one word for Mahmoud Ahmadinejad: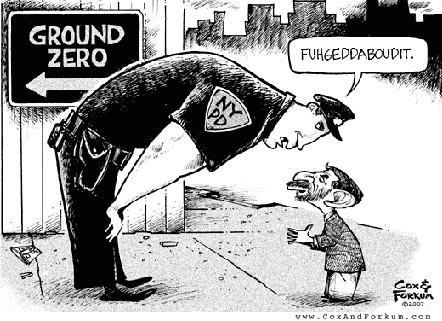 There is photographic evidence that Mahmoud Ahmadinejad participated in the 1979 taking of our embassy in Tehran and holding of our citizens for 444 days. His government has continually attacked the United States and murdered our people. Our State Department says the foremost state sponsor of terrorism is Iran. A few months back, the Pentagon stated Iran either supplied or taught others how to make EFPs that had killed at least 170 of our troops in Iraq. The Multination Forces Command Iraq has repeatedly stated that Iran's agents are entering Iraq and training insurgents on how to blow up our troops and the innocent en masse. Just yesterday, there was this headline: Iranian Officer Arrested for Allegedly Smuggling Roadside Bombs Into Iraq.
It appears that Ahmadinejad has decided not to go to Ground Zero but he will address the United Nations Monday. Michelle Malkin informs us that there is a protest against him speaking there that day:
Join the National Rally to End the Threat Now
Monday, September 24
12:00 noon, rain or shine
Dag Hammarskjold Plaza
2nd Avenue at 47th Street
(across from the United Nations) New York City
Debra Burlingame offers these suggestions for what signs to carry there:
Ahmadinejad GO HOME.

Terrorist thugs not welcome where heroes died.

Ahmadinejad stones women.

Support American troops: Ahmadinejad out of U.S.
The only good reason to let Mahmoud Ahmadinejad's plane land inside our nation would be to then transfer him to another direct flight, fly him down to Guantanamo Bay, toss him in a cell, lock the door, and fuhgeddaboud him.
——
Note: Click on the image above to read Cox&Forkum's full report and commentary.