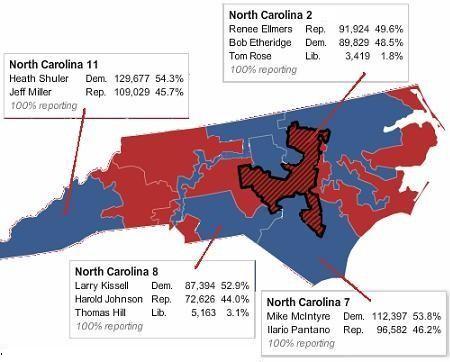 Election night results in the four North Carolina 'toss up' races
Congressman Bob Etheridge's grabbing a "reporter" by the arm and striking him in the head this past June likely contributed to his apparent defeat in the midterm election. (Etheridge has stated he will ask for a recount if the vote is within one percent after the absentee ballots are counted and the race is certified.)

Yet also look at the 111th Congress voting records for the four "at-risk" Democrats running for reelection in North Carolina:
NC-2 48.6% Etheridge – 49.5% Ellmers
HEALTH CARE BILL Yes
STIMULUS PACKAGE Yes
TARP Yes
ENERGY BILL Yes

NC-7 53.8% McIntyre – 46.2% Pantano
HEALTH CARE BILL No
STIMULUS PACKAGE Yes
TARP No
ENERGY BILL No

NC-8 52.9% Kissell – 44.0% Johnson
HEALTH CARE BILL No
STIMULUS PACKAGE Yes
TARP N.A.
ENERGY BILL No

NC-11 54.3% Shuler – 45.7% Miller
HEALTH CARE BILL No
STIMULUS PACKAGE No
TARP No
ENERGY BILL Yes
In addition, Congressman Etheridge consistently voted for closing Guantanamo Bay and for bringing Gitmo detainees to the U.S. for a civilian trial. Coupled with his weak response to Renee Ellmers' 'No Mosque at Ground Zero' campaign advertisement, they served to highlight Etheridge's alignment with the politics of President Obama:
Bob Etheridge has never thought building this mosque and community center so close to Ground Zero is a good idea, spokesman Mike Davis said in a statement Tuesday. Davis labeled the ad a political tactic designed to distract voters. [Davis later added that Etheridge had not previously commented because it was "a New York" issue.] …
Etheridge has the clear financial edge in the race, sitting on more than $1.2 million as of his latest campaign filing. Ellmers has raised $355,000 to date, which her campaign notes is more than any of Etheridge's previous GOP challengers have raised.
Renee Ellmers ran against Congressman Etheridge's liberal voting record. He stood out as compared to the more conservative Democrats in North Carolina and that likely also contributed to why he lost the NC-2 election.