Since June 30, President Barack Obama has cleared two dozen beds at Supermax for Gitmo detainees and today Senate Democrats will attempt to block a vote on Senator Jim Inhofe's amendment [S.Amdt.1559] to the Defense Authorization bill (S.1390) for FY 2010. The amendment would prohibit the transfer of detainees from Guantanamo to any facility in the United States. (A final vote on the Defense authorization may come as early as this evening.) In addition, Senator Inhofe is also sponsoring the 'Guantanamo Bay Detention Facility Safe Closure Act of 2009' (S.370). We join Sen. Inhofe in asking you to call your Senators [(202) 224-3121] today and demand that they go on record, to vote 'yea' or 'nay' to keep terrorists out of America.
Previously, there was always a long waiting list to move infamous criminals, prisoners who had repeatedly assaulted guards or fellow prisoners, and high-security prisoners in grave danger in general population into Supermax. When President Obama took office there was one free bed. On June 30, 2009, Supermax inmate Eric Rudolph wrote Fox News saying it is already at capacity, "So even if they decide to move the detainees here I do not know where they would put them."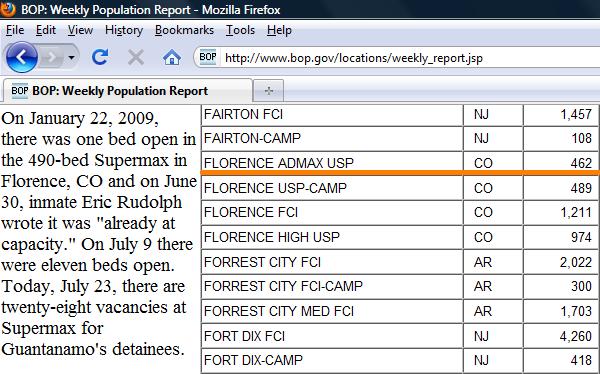 Click on image to view the Bureau of Prison's inmate population page
9/11 Families for a Safe & Strong America asked Senator Inhofe for his reaction to the suddenly available space at Supermax:
"President Obama's obsession with transferring terrorists out of Guantanamo Bay, Cuba (GITMO) to the United States is dangerous on a number of levels. Housing terrorist detainees in Supermax facilities in the United States creates terrorist targets here at home and provides an opportunity for the spread of their extreme ideology among the rest of the prison population. Even when 9/11 conspirator Zacarias Moussaoui was imprisoned and tried in Alexandria, Virginia, officials had to clear out an entire wing of the prison to accommodate him. I am very disturbed at mere suggestion that vacancies are being created in Supermax prisons to make way for the transfer of GITMO detainees. If this is the case, which highly dangerous criminals are being moved, where are they being moved to, and what kind of threat does this present to the American population?" – U.S. Sen. Jim Inhofe
Olympic bomber Eric Rudolph, Unibomber Ted Kaczynski, Oklahoma City mass-murderer Terry Nichols, multiple-murderer Sammy "The Bull" Gravano, and all the other scum are right where they need to be at Supermax, in the next state-of-the-art cell to those of shoe-bomber Richard Reid, second-wave 9/11 attacker Zacharias Moussaoui, and the 1993 bombers of the World Trade Center. None of them are likely moving anywhere.
Yet why are other extremely dangerous and endangered inmates being moved to less secure facilities to make room for al Qaeda's killers when Guantanamo, America's most secure detention facility, is available to keep them for as long as necessary?
We ask every American to sign the petition to keep terrorists out of our country and in Gitmo, right where they belong.
Update: Senate Dems block vote .. see this report for how you can help pass the stand-alone bill.