At 9:37 a.m., on 9/11, those aboard Arlington Fire Department Engine 101 were headed north on I-395 for a training session near the Pentagon. Firefighter Jamie Lewis saw the American Airlines Flight 77 first. "Hey, look at the plane!" he shouted. "What's he doing?" Nearby, on the Columbia Pike, Paramedic Claude Conde was loading a stroke victim into an ambulance when a plane roared overhead. "He had never seen a plane so close. Something wasn't right. The airport wasn't far away, but the plane was already at treetop level, well below the glide path it should be on for National Airport." On a routine watch at the Pentagon's helipad, Firefighter Mark Skipper was standing in front of Foam 161 when the firefighter he was talking with, Alan Wallace, "…noticed some movement out of the corner of his eye … The plane was heading straight towards them … a few feet off the ground … 'Run!' Wallace screamed."

In Firefight: Inside the Battle to Save the Pentagon on 9/11, authors Patrick Creed and Rick Newman slam you awake as to what happened there that day.
While many staggered through smoke, rising heat, and shockwave-strewn wreckage in search of an exit, it took the sheer valor of troops, civilians, and first responders to save the lives of hundreds — some died in the attempt. Firefighters from far and near came running, found a vortex of chaos, sucked rancid smoke, and fought the 'big one' fire of their careers. Even as carbon monoxide levels rose in the national command center, our nation's senior military leadership refused to evacuate, the fire was spreading, and the entire Pentagon was at risk of burning down.
Pat Creed and Rick Newman described it all, as best as anyone could within 486 pages.
If you wish to learn more about the courage and tragedy of 9/11, buy their book.
I read it in one sitting.
Finally, I learned of the heroism and fate of Major Steven Long and of how and where my friend Army Sergeant Major Larry Strickland was murdered. I at least now know some measure of the many firefighters and paramedics from that area who joined our families and FDNY firefighters in honoring the 343 in Washington, D.C, in October 2002.
As journalist Michael Doyle put it, "Firefighters at Pentagon get their due, at last."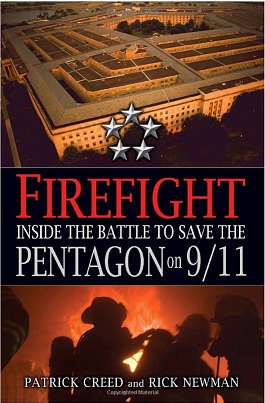 CLICK ON IMAGE FOR BOOK'S PAGE ON AMAZON
About the authors:
Patrick Creed is an amateur historian, volunteer firefighter, and U.S. Army Reserve officer who recently returned from a tour in Iraq as a civil affairs officer with the Army's Special Operations Command. Creed has one son and lives in Havertown, Pennsylvania, where he is a member of Bon Air and Lansdowne Fire companies.

Rick Newman is an award-winning journalist and staff writer for U.S. News & World Report. He has also written for The Washington Post and many other publications, and is the co-author of Bury Us Upside Down: The Misty Pilots and the Secret Battle for the Ho Chi Minh Trail. Newman has two children and lives in Westchester County, New York.
Editor's note to 9/11 "truthers" wishing to remain ignorant: do not read their book.