Today, Pakistan's Daily Times reported that Sami al-Haj will produce for a television station notorious for publishing al Qaeda propaganda, as well as for other Islamic terrorist organizations. It is believed that Sami al-Haj used his job as a cameraman for al Jazeera to make videos for al Qaeda leader Osama bin Laden prior to his capture in Pakistan and being turned him over to U.S. authorities.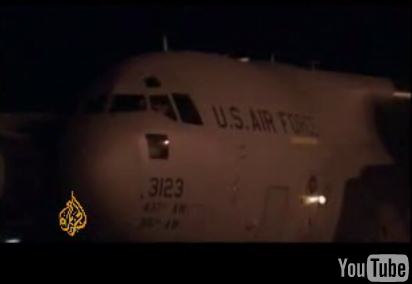 When he was released from Guantanamo two months ago, a reasonably healthy looking al-Haj was flown to the Sudan by US Air Force jet yet faked weakness once he landed in Khartoum after spotting the media waiting on the tarmac.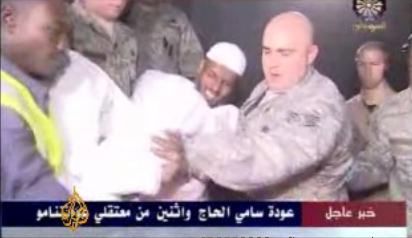 Even before al Jazeera TV reported, "he was carried off US military aircraft clearly exhausted and in pain," their report's video showed Sami al-Haj a few minutes later, rushing to his young son, easily lifting him, and vigorously kissing and hugging him in a Khartoum hospital.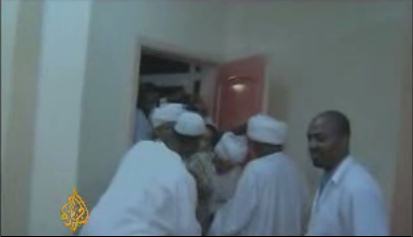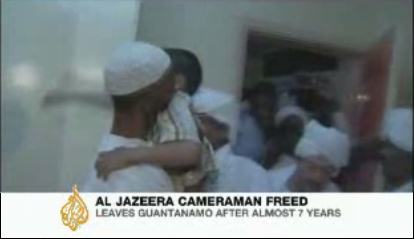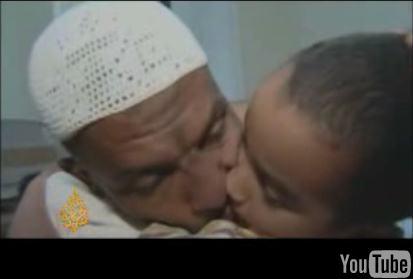 According to DoD spokesman Navy Commander Jeffrey Gordon:
The aircrew who brought him to Khartoum on a military transport said he was relaxed, standing up, walking around during the entire flight. When they landed at Khartoum, he looked out the window, saw all the media, and immediately collapsed in a chair. "I can't walk," said the former cameraman for Al-Jazeera, demanding an ambulance. He can be seen being carried off the plane on a stretcher, wincing as if in pain. In another video shot the same day, he's seen reuniting with his family, walking, standing, smiling, miraculously healed. Gordon reports that the man who said he engaged in a 16 mos hunger strike "left Guantanamo four pounds lighter than when he arrived."
Also in the video is aj-Haj, with an I-V wrapped around his wrist yet not inserted, strongly shaking hands and hugging well-wishers: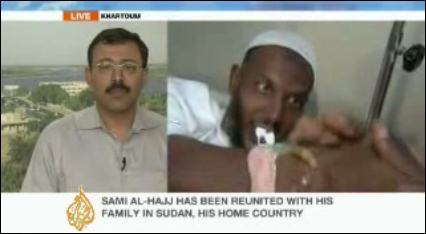 Sami al-Haj's lawyers were not shy about creating propaganda for him while he was detained at Guantanamo; they had this cartoon drawn up for al-Haj, based upon his description of being force-fed during his 16-month hunger strike while at Guantanamo.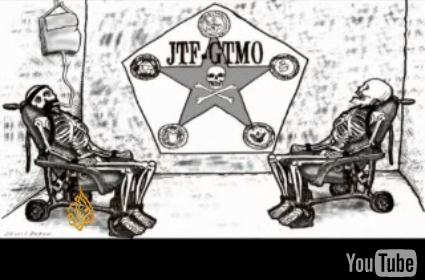 Now, al Jazeera has appointed al-Haj to what it alleges is a human rights department:
Al Jazeera television said on Wednesday it had appointed a cameraman held for six years without charge at the United States prison in Guantanamo Bay as producer at its new freedoms and human rights programmes department. "I will do my utmost to reveal to the world the violations committed against humans," Sudanese-born Sami al-Haj, who was handed to Sudanese authorities in May, said in a Jazeera statement announcing the appointment. "I hope Jazeera, through creating this department would be able to help those who suffer quietly due to such violations," he said. Haj who suffered health problems after a long hunger strike returned to the Sudanese capital Khartoum on May 1 aboard a US military plane. A senior US defence official in Washington said at the time that Haj was transferred to the custody of the Sudanese government and not released. Haj, who had been accused of making videos of Al Qaeda chief Osama Bin Laden, was handed to the US military in January 2002 but was never charged or brought to trial, the network says.
From the Unclassified Summary of Evidence of Sami al-Haj's July 8, 2006, Administrative Review Board, it appears he was held and questioned at Guantanamo for good reasons:
The following primary factors favor continued detention:

a. Commitment

1. The detainee worked as an executive secretary for Abdul Al-Latif Al-Imran, general manager for the Union Beverage Company (UBC).
2. The Union Beverage Company has been associated with Bosnian/Chechen mujahid.
3. The detainee traveled to Azerbaijan at least eight times to courier money to the Al-Haramayn non-governmental organization (NGO) on behalf of his boss, Abd Al-Latif Omran.
4. Al-Haramayn has been designated under Executive Order 13224 as an organization that has provided support to terrorist organizations.
5. During the winter of 1997, the detainee delivered $7,000 USD to Al-Haramayn.
6. During the winter of 1998, the detainee delivered $13,000 USD to Al-Haramayn.
7. During the summer of 1999, the detainee visited Al-Haramayn's summer camp, and delivered $13,000 USD to Al-Haramayn.
8. During November 1999, the detainee delivered $12,000 USD to Munir Al-Barguoni for a new factory in Azerbaijan; he also delivered $100,000 USD to Jamal, the Director of Al-Haramayn.
9. The detainee was detained in Azerbaijan for the transport of $220,000 USD. The money was destined for Chechen rebels and not for humanitarian support as the detainee was told.
10. After serving as the Al-Haramayn Director in Baku, Azerbaijan from 1997 to January 2000, Jiman Mohammed Alawi Al Muraai, aka Abu Wafa, took a job operating the Wafa offices in Karachi, Pakistan.
11. Al Wafa has been designated under Executive Order 13224 as an organization that has provided support to terrorist organizations.
12. While working at the Union Beverage Company, the detainee met Mamdouh Mahmoud Salem.
13. Mamdouh Mahmoud Salem Abu Hajir was arrested in Germany in September 1998 and extradited to the United States. He was a senior al Qaeda lieutenant and Bin Laden's deputy in Sudan.
14. The detainee founded a company on 20 May 1999 in Azerbaijan named "SAMICO Services."
15. SAMICO documents were found during a raid of locations occupied by suspected extremists affiliated with Muhammad Rabi'a Abdul Halim Sha'ib (an Egyptian extremist).
16. To register a company in Azerbaijan, authorities required that a registree have a registered business in another country.
17. Because the detainee did not have a registered company elsewhere, he used falsified documents to register his company. According to the detainee, the falsified documents showed him as a co-owner of Rumat International.
18. According to a Foreign Government Service, the detainee and Mamduh Muhammad Salim Ahmad, aka Abu Mu'izz, are both affiliated with Rumat International. Ahmed was subsequently arrested on suspicion of participating in the bombings of the U.S. embassies in Nairobi, Kenya and Dar Es Salaam, Tanzania.
19. While in Azerbaijan, the detainee came into contact with Ashraf, who ran the juice distribution business for the Union Beverage Company in Azerbaijan.
20. Between 1994-1998, Ashraf Abdulrahim Ayub worked for the Kuwaiti Revival of Islamic Heritage Society (RIHS), a non-governmental organization.
21. The Revival of Islamic Heritage Society has been identified under Executive Order 13224 as a terrorist affiliated organization.
22. As of late March 2003, a foreign government was investigating Ashraf for possible ties to terrorism.
23. On 4 January 2000, the detainee attempted to reenter Azerbaijan, but was detained and then deported from the country. The deportation was due to his alleged activities supporting Chechen rebels.

b. Other Relevant Data

1. In March or April 2000, the detainee left the Union Beverage Company and went to work for Al Jazeera in Doha, Qatar.
2. The detainee was hired to go to Chechnya to do a story.
3. Around this time, the detainee met with the former President of Chechnya, who was exiled in Doha, Qatar, on at least 15 occasions to learn about Chechnya and to solicit help in gaining access to Chechnya.
4. Following the September 11th attack, the detainee was told by Al-Jazeera to forget Chechnya and go to Afghanistan.
5. The detainee interviewed several Taliban officials during his stay in Kandahar, Afghanistan.
6. The detainee interviewed a man who identified himself as Abu Hafa Al Moritani, a member of al Qaeda.
7. Abu Hafa was one of Usama bin Laden's personal advisors and a religious recruiter. He was also the leader of the Mauritanian al Qaeda cell.
8. The detainee was stopped in early December 2001 at the border by Pakistani security. According to Pakistan security, the passport the detainee had in his possession did not agree with Pakistani records.
9. The detainee was detained at the Afghanistan/Pakistan border because his name appeared on a border authority watch list.
YouTube still has Al-Jazeera's full report posted. Note that 39 seconds in, just minutes after arriving at a Khartoum hospital, Sami al-Haj rushes unassisted to his son:
I am sure al-Haj will be quite inventive back working for a leading authority on disinformation in the Middle East.
——
Editor — A hat tip to The Long War Journal
To comment, click here.
Update, 11:35 PM EDT, July 5, 2008: Our thanks goes to See-Dubya at MichelleMalkin.com for the link over.