Updated 12:05 PM, EST
Over the objections of a large majority of 9/11 family members, President Barack Obama is expected to sign an Executive Order today directing that the detention facilities at Guantanamo Bay Naval Base be closed:
Relatives of victims of the September 11 attacks, who were at the base this week to observe pretrial hearings, told reporters they oppose any halt to the trials. "The safest place to have these trials is Guantanamo Bay. If they were to move to the homeland it would endanger all of us," said Lorraine Arias Believeau of Barnegat, New Jersey, whose brother, Adam, was killed in the attacks.
In addition, President Obama has directed a 120-day suspension of detainee trials so that, "…his administration [can] review the military commissions process…" and will order the closure of all overseas "C.I.A. prisons." On January 14, 2009, the Washington Times reported, "The Pentagon is looking at several military bases in the U.S. as possible sites to hold terrorist suspects now at Guantanamo Bay, Cuba, including Camp Pendleton in San Diego and Fort Leavenworth in Kansas."
Debra Burlingame is skeptical about President Obama's stated intent and whether he believes Guantanamo can be safely closed within one year. She offers that the detainees are far more dangerous than Obama imagined prior to being read-in on their classified files. Yesterday, she discussed this with Neil Cavuto:
But how dangerous is the average detainee at Guantanamo? Listen to Gordon Cucullu. Beginning in 2005, he made five trips to Guantanamo, spent 3 1/2 years researching the facility, and embedded with our troops there. He starts out by describing the frequent attacks made by the Islamic jihadist detainees there upon our troops:

The Wall Street Journal weighed in this morning:
One suggestion is moving the remaining prisoners to Kansas's Fort Leavenworth, but state politicians are already sounding a red alert. The military base is integrated into the community and, lacking Guantanamo's isolation and defense capacities, would instantly become a potential terror target. Expect similar protests from other states that are involuntarily entered in this sweepstakes.

The New York Times did its ritual dance of joy this morning. As expected, after it has once again endangered American lives through a successful propaganda campaign, it paraded the closing as the main headline this morning [Red Square emphasis added mine]. For the benefit of those non-Times readers, it also does this whenever it reveals America's classified secrets: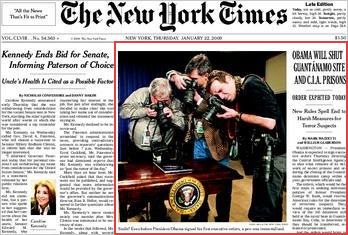 Lastly, Congressman John Murtha (D-PA) announced that he'd take the detainees:
Rep. John Murtha, D-Pa., said he would take the detainees in his own district, which lies just a few miles from the field near Shanksville, Pa., where United Flight 93 crashed after it was hijacked by terrorists on Sept. 11, [murdering all 40] people aboard.

"Sure, I'd take them. They're no more dangerous in my district than in Guantanamo," Murtha said, calling the Guantanamo prison a "sore in the United States' moral standards."

"There's no reason not to put them in prisons in the United States and handle them the way they would handle any other prisoners."
Congressman Murtha offered no opinion on the morality of willfully endangering his constituents in Pennsylvania's 12th District.
Update: President Obama signs Executive Order…
Not new news: government officials and others betray President and country by discussing and providing classified information to the New York Times:
Details of the directive involving the C.I.A. were described by government officials who insisted on anonymity so they could not be blamed for pre-empting a White House announcement. Copies of the draft order on Guantánamo were provided by people who have consulted with Mr. Obama's transition team and requested anonymity for the same reason.